WARNING.
This site contains sexually oriented adult material intended for individuals 18 years of age or older. If you are not yet 18. By viewing this site you agree that you understand and the below terms:
18 YEARS AND OLDER
We cannot prohibit minors from visiting this site. Parents or guardians are responsible for supervising children and adolescents as to which materials are appropriate for them to view. We requires that all purchases be made by individuals over 18 years of age.
DISCLAIMER
This website is provided to you "As Is" without any warranties of any kind, express or implied. All products on this website are for novelty use only. We make no warranties of any kind, express or implied, of the product ordered from us is free from damage, manufacturer defect, and manufacturer misrepresentation. By submitting your order, you expressly acknowledge and agree to the following: We shall not be liable to any purchaser, or other people, for any injury, loss or damage, whether direct, indirect, incidental, special or consequential, regardless of the legal theory asserted including negligence, and or strict liability.
CHARGEBACK
We log IP strings on all orders – any orders coming back as a chargeback due to fraudulent activities will be diligently pursued through your local jurisdiction for prosecution to the fullest extent of the law.
To make a purchase at sexdolls.to, you agree that you will not file any dispute/claim or chargeback with your credit card company on any order that you have made at sexdolls.to.
Sexdolls.to considers credit card chargeback to be fraud if you made no reasonable effort to notify us that a problem existed and allow us considerable time to resolve or clarify the or matter.
We do not tolerate credit card fraud. No expense will be spared and all fraud without exception will be prosecuted to the full extent of the law. In addition, we will pursue civil legal action seeking any loss of income related to the fraud, including business, legal fees, research costs, employee downtime and loss of revenues.
All frivolous chargeback not only costs our employees time away from our usual and customary matters of conducting normal business, but costs us money, therefore:
You agree that if you choose to make a purchase from sexdolls.to and file a dispute/claim or chargeback with your credit card company for a situation that contradicts our terms & conditions which you agree to when placing your order OR have not allotted us sufficient time to acknowledge, confirm, and research the situation; and as of any result, you do not win the charge back argument or dispute/claim.
In the event that you win the charge back with your credit card company, we will attempt to recover fraudulently disputed charges plus additional costs via a third-party collection agency. The information reported will include full name, email, order date, order amount, IP address, full address, and phone number.
Enter coupon code 'ESDOLL100' at Cart,  Get $100 OFF Discount.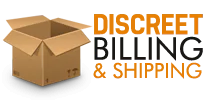 We ship each and every product in an unmarked and discreet box and also make sure that billing is done with no mention of sex related products.